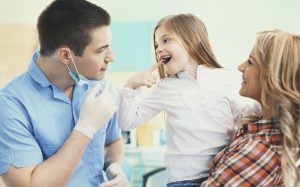 At Countryside Dental, our care is kind and comprehensive, allowing us to treat patients of all ages. As a family dentist in Buffalo Grove IL, we provide compete dental services to help promote optimal oral health through all stages of life. With each patient's comfort and satisfaction main focus, we provide the comfortable care your family needs to feel right at home. From the moment you walk into our dental office, you and your family will be warmly greeted while we strive to provide peace of mind.

Your Family Dentist in Buffalo Grove IL
When choosing a family dentist to care for your family's oral health, you need a dentist who is able to grow with your family. Throughout life, oral health needs change. At Countryside Dental, we accommodate changing dental needs through all stages of life. As a result, your entire family will benefit from one amazing dentist at one location. This provides added convenience and peace of mind as we build a trusting relationship with your family that will last for years.
Comprehensive Family Dental Services
As a family dentist, we offer an array of services to meet the individual needs of each member in your family. We offer general and preventive care to ensure your family's smiles stay as healthy as possible. In addition to regular cleanings and checkups, we offer restorative and cosmetic dentistry to promote the function and appearance of your family's smiles. We even offer specialized areas of treatment, such as periodontal disease therapy and pediatric dentistry.
Our diversity of services allows us to provide your family with the exact services your family needs at all times—even during emergencies. With our emergency services, we are there for you during the tough times to make the situation a bit easier as we address the dental emergency.
Our exceptional level of care is furthered by utilizing the latest dental advancements. Our modern office uses the most innovative dental technologies to enhance patient comfort while also providing more comprehensive care. Using technology like digital x-rays, we are able to gain a deeper insight into oral health. The clear and detailed produced by the digital x-rays better allows us to treat and diagnose more accurately. Not to mention, digital x-rays are safer than traditional x-rays, protecting your family against unnecessary radiation exposure.
Our superior level of care and comfort is supported by the experience and qualifications of Dr. Natalya Nagornaya. With more than 14 years of experience and an active member of various dental associations, Dr. Nagornaya delivers the high-quality care your family needs for lasting, beautiful smile.
Your Dentist in Buffalo Grove IL
If your family is ready to experience a different kind of dentistry, Dr. Nagornaya is the family dentist in Buffalo Grove IL to care for your family. With a strong commitment to our own families, we welcome your family into our office with open arms.
Enjoy a personalized and caring approach to family dentistry with Countryside Dental. We are here to treat your family as our own.