Veneers – Buffalo Grove, IL
Achieve a Truly
Radiant Smile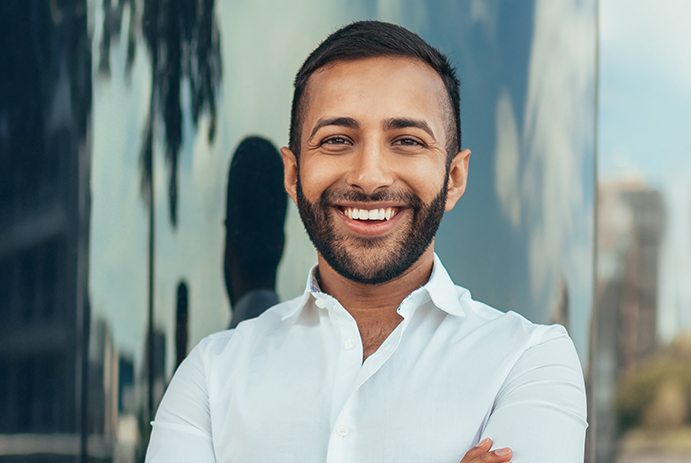 Many patients are unhappy with their smile but feel that the investment and discomfort required to correct relatively minor dental irregularities isn't worth the results. For patients with chips, cracks, stains, gaps, or stubby teeth, dental veneers may be the perfect solution to cover your smile flaws without investing unnecessary time and money in extensive reconstructive procedures. Dr. Natalya Nagornaya and the Countryside Dental team help patients perfect their smiles with minimally invasive, low-prep porcelain veneers.
Why Choose Countryside Dental for Veneers?
Made Using Lifelike and
Durable Dental Porcelain
Dedicated Team That
Listens to Your Needs
Dentist Holds Nearly
15 Years of Experience
How Do Porcelain Veneers Work?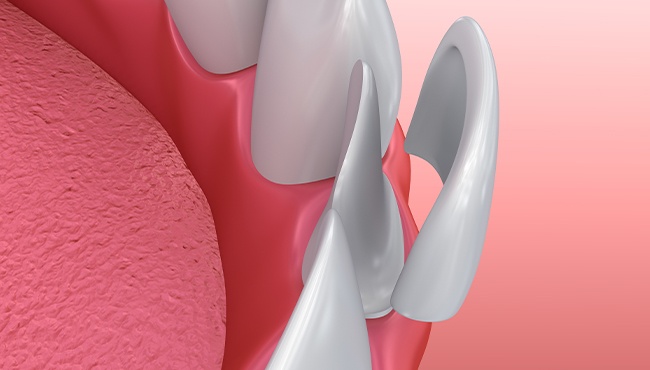 Dental veneers are thin sheaths of porcelain that resemble eggshells in color and thickness. These smile correcting tooth covers are a great way to perfect smiles with one or more cosmetic flaws without undergoing more invasive restorative procedures. For instance, patients with small gaps between their front teeth can invest countless months and dollars to receive orthodontic alignment, but if these small gaps are the only smile irregularities, applying a veneer to cover the gaps and even out the smile is a more conservative treatment option. Here's how veneers work:
Your cosmetic dentist will examine your teeth to ensure that porcelain veneers will adequately cover cosmetic flaws.
If veneers are the best option to improve your smile aesthetics, your dentist will then complete minimal dental preparation to ensure the sheath of porcelain fits flush with the existing smile surface.
A temporary veneer is placed during this appointment and will help you get used to the look and feel.
Our talented ceramists at the dental lab craft your custom dental veneer and return the finished item to our office.
You'll return for a second meeting, and your dentist will bond the veneers to the prepared teeth, then shape, polish, and seal the new smile-correcting porcelain in place.
In just two short visits, patients fully transform their smiles with no need for painful dental reconstruction or restoration.
Who Should Consider Dental Veneers?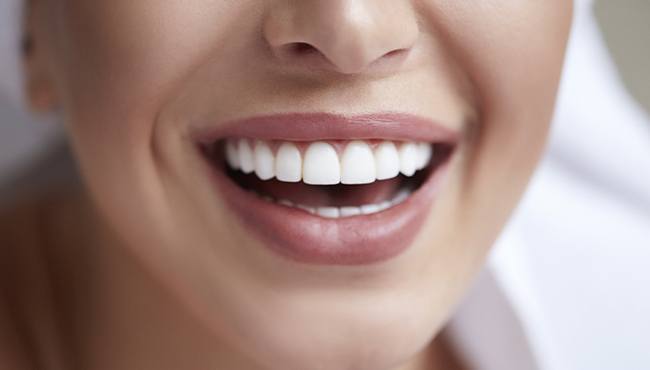 Porcelain veneers may not be the best option for every patient, but they offer aesthetic correction for a wide variety of smile irregularities, including:
Patients with deep-set stains that are unresponsive to whitening
Patients with cracked or chipped teeth that don't want to undergo a crown procedure
Patients with gaps between teeth visible while smiling
Patients with slightly crooked or overlapping teeth
Patients with teeth of uneven lengths
Patients with sensitive teeth or gums
Patients who are not healthy enough for more invasive, corrective procedures
Call Countryside Dental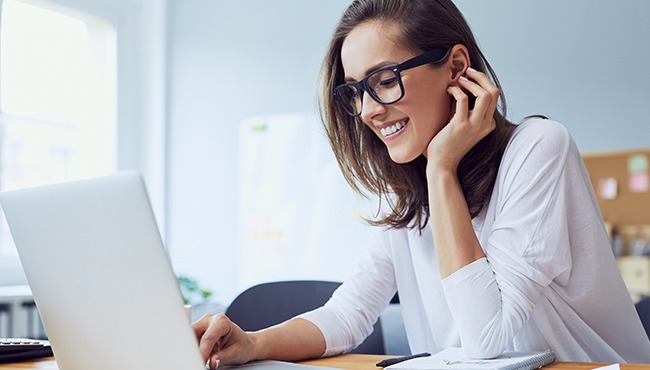 At Countryside Dental, Dr. Nagornaya and her experienced dental care team are ready to help patients discover the picture-perfect smile hidden beneath chips, cracks, and stains. If you're interested in finding out how cosmetic dentistry services from your Buffalo Grove dentist can enhance the natural beauty of your smile, call to schedule a cosmetic dentistry consultation today.
Porcelain Veneers FAQs
If you're unhappy with some cosmetic aspects of your smile, then porcelain veneers in Buffalo Grove may be just what you need. This versatile treatment can correct virtually any aesthetic imperfection you might have within your smile. Before you go through with the treatment, though, it's perfectly normal to have a few questions about the details of veneers. That's why we've answered some of our most frequently asked questions about veneers below!
Does Getting Porcelain Veneers Hurt?
More often than not, you will be numb for the veneers process. Once the local anesthetic takes effect, you shouldn't feel a thing throughout the whole treatment. The more veneers you're receiving, the more likely it is that your affected teeth will feel a little sore or sensitive for a few days afterwards. This can easily be managed with over-the-counter pain medications like ibuprofen.
How Long Do Veneers Last?
Typically, a veneer lasts between 5 and 10 years, but you can prolong its lifespan to up to 20 years if you take excellent care of your restoration. Luckily, veneers do not require any special care beyond what you would extend to your natural teeth. Namely, brush and floss diligently every day and attend checkups and cleanings with your dentist in Buffalo Grove at least twice a year. Also, avoid using your teeth as tools and chewing on inedible objects.
What Are the Benefits of Porcelain Veneers?
When compared to dental crowns, porcelain veneers are a much more conservative treatment, as less enamel must be removed from your teeth. Additionally, they are also incredibly versatile with their ability to correct numerous smile flaws in just one treatment. Gum tissue also tolerates dental porcelain quite well, so there should be no irritation. The color of your veneers can be custom-chosen to blend in with the rest of your smile, so onlookers shouldn't be able to tell that they're not your "real" teeth. Lastly, dental porcelain is incredibly resistant to staining, much more so than your natural tooth enamel. You should be able to enjoy items like coffee, tea, and berries to your heart's content without worrying about it discoloring your smile.
How Much Do Porcelain Veneers Last?
Each and every case is different, so there is no set cost of getting veneers. Your total cost could be influenced by a number of factors, such as how many veneers you're receiving and where in your mouth they are being placed. The cost will also depend on the level of coverage from your insurance carrier. If you're getting veneers to correct a structural flaw within your teeth, such as a chip or crack, your insurance company may cover the cost up to 50%. However, don't expect any coverage without first contacting your insurance provider.