Implant Dentures — Buffalo Grove, IL
Strong & Sturdy Full-Arch Tooth Replacement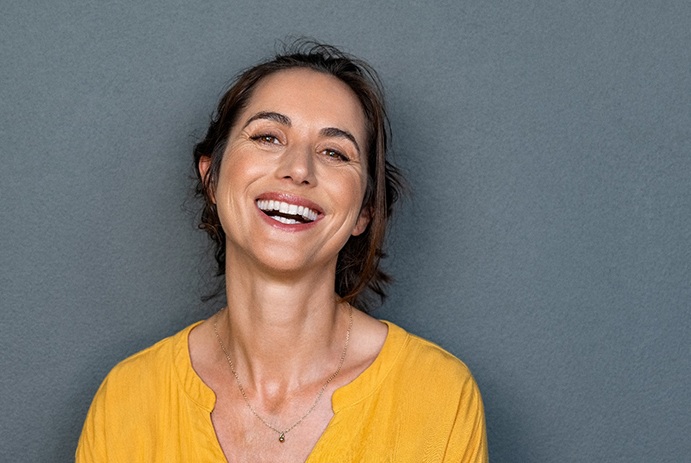 Millions of people throughout the U.S. are missing all of their teeth. Quite a few of them choose to get traditional dentures. However, while modern dentures are better than ever before, many patients end up disappointed by their prosthetic's performance. Is there a better option? For most people, yes. Contact Countryside Dental today to learn about implant dentures in Buffalo Grove. This sturdy, long-lasting form of tooth replacement is superior to traditional dentures in numerous ways.
What Are Implant Dentures?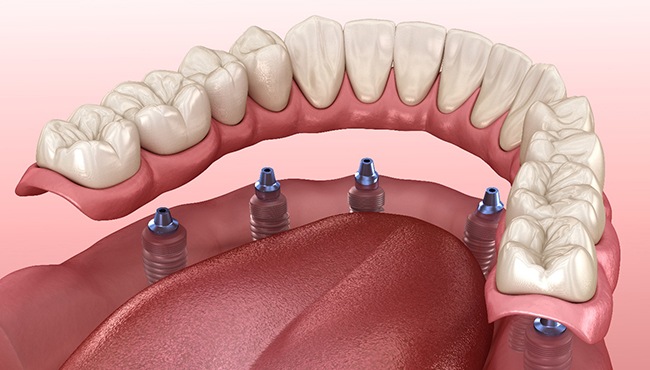 Dental implants in Buffalo Grove are prosthetic tooth roots. When they are inserted into the jawbone at strategic locations, they can be used to support a full arch of prosthetic teeth (an implant denture). Implants provide an incredibly strong base for the restoration on top of them, making this tooth replacement solution a reliable and long-lasting alternative to traditional dentures.
There are multiple types of implant dentures. Depending on your situation, you might be a candidate for one of the following:
Fixed/Permanent Implant Dentures
Also known as hybrid prostheses, these are permanently attached to the implants that support them. They require enough jawbone density to accommodate around 4 – 6 implants in the majority of cases. Most patients enjoy the convenience of always having their teeth in their mouth.
Removable Implant Dentures
Also called "Snap-On" dentures or overdentures, these are attached to their implants via ball- or bar-shaped attachments. They are easy to remove without professional assistance, so patients can easily clean their prosthetic like they would a normal denture. Removable implant dentures usually require fewer implants than their permanent counterparts.
The Implant Denture Procedure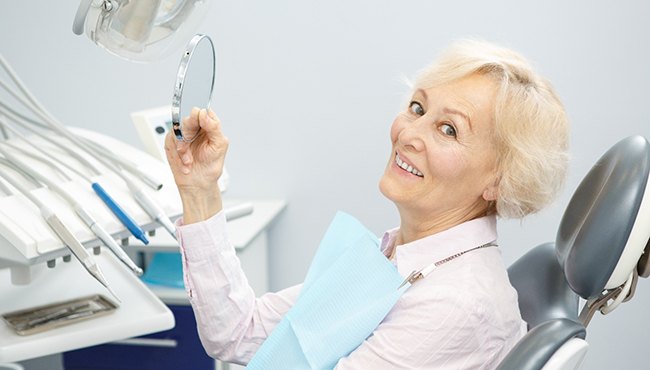 The implant denture procedure typically involves four stages of treatment:
We determine if implant dentures are a fit for you.
Implant surgery. We refer you to a local oral surgeon, who places the implants into your jawbone at precise locations.
Over a period of a few months, the implants form a strong bond with your jawbone.
We design and attach your beautiful new teeth.
Although the implant denture procedure is somewhat lengthy, its remarkable end results are well worth the time and effort!
Am I a Candidate for Implant Dentures?
Typical candidates for implant dentures:
Have excellent oral hygiene habits
Have adequate jawbone density to support dental implants
Are free of gum disease
Are well enough to undergo minor surgery
If you aren't sure if this treatment is right for you, consult with an implant dentist in Buffalo Grove. Most adults with missing teeth are eligible for implants, either immediately or after some preliminary procedures, such as a bone graft or gum disease therapy.
Benefits of Combining Dentures & Dental Implants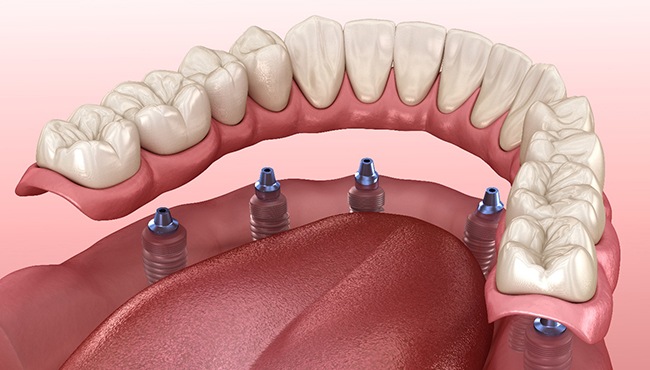 While implant dentures take more time and money upfront than other forms of tooth replacement, they offer remarkable benefits that make them a smart investment. Some of their top benefits include:
A strong bite force that can stand up to virtually any food, including foods that are off-limits with regular dentures.
Stimulation for the jawbone that prevents it from deteriorating and losing its shape over time.
A beautiful prosthetic that is tailor-made for your unique mouth — onlookers may have no clue that your teeth are not natural!
Tooth replacement that stands the test of time (dental implants can last for decades).