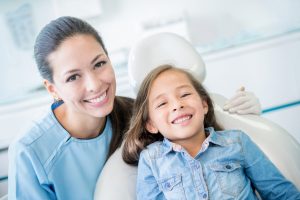 Eventually, your child will lose his or her baby teeth, but keeping little teeth strong and healthy should be a goal for parents, says Family dentist in Buffalo Grove, Dr. Natalya Nagornaya. She offers tips on oral healthcare for children and how you can make it fun. Yes, we said fun.
Baby Teeth are So Important
The Centers for Disease Control assert that 20 percent of American youngsters have one or more untreated cavities. Tooth decay and gum disease cause issues with speech, tooth eruption and alignment, nutrition and even learning.
Your family dentist in Buffalo Grove, Dr. Nagornaya, keeps young smiles healthy through in-office preventive care. In her years of practice, she has given young patients and their parent's many ways to combat tooth decay and other oral health issues and to enjoy doing it! Why not read some tips now?
Fun Tips to Keep Young Smiles Healthy
Brush twice a day, and floss daily, says the American Dental Association (ADA). Dr. Nagornaya tells parents to use a soft, child's size brush and a pea-sized amount of fluoride toothpaste for children school age and younger. Mom and Dad, supervise children until they develop the dexterity to floss and brush alone.
What's the fun part? Use your imagination. Just as you used a song to teach your little ones their ABCs, use one to sail through their morning and evening brushing and flossing. Go to the ADA's consumer website, Mouthhealthy.org, for information and songs young ones really will enjoy.
Visit Countryside Dental semi-annually for cleanings and exams. Starting at the age of one year, your dentist likes to inspect young mouths for decay, gum disease, and tooth/jaw development. She will catch problems while they are still small to limit damage and make treatment easier. Hygienic cleanings gently remove plaque and tartar.
Parents, you'll be happy with the easy rapport Dr. Nagornaya and her team has with their patients, but especially with children. In fact, you may even see a hand puppet or two make an appearance to show the best ways to brush and floss.
Encourage and model good nutrition. Choose low-fat meats, high-calcium dairy products and fresh fruits and vegetables. Avoid sodas and sports drinks, empty calories that only foster tooth decay.
Remember, there are plenty of tooth-friendly choices. Yogurt provides both fruit and calcium as do milk and cheese. Fruits and veggies are a must as well but pick ones your youngsters really enjoy. Also, if you plan ahead of time–say, the night before a trip to the zoo–you can prepare carry-along healthy snacks such as cheese cubes and whole grain crackers.
Finally, both children and adults need fresh water daily. Water removes food residues from on and between teeth and also increases saliva production. Saliva prevents cavities with its antibacterial enzymes. So pick a BPA-free water bottle (there are lots out there to choose from) for each member of the family. Kids' bottles are designed to fit little hands and feature bright colors and characters to maximize the fun factor. Carry these containers wherever you go.
Use Your Imagination
Sticker charts, brushing together as a family, using a timer or brushing app are all creative ways to make oral hygiene a fun experience. Ask other parents what they do to encourage brushing and flossing, and when you come to Countryside Dental, talk to the dental team about additional tips and tricks. If it's time for your routine visits, contact the office today to set them up.