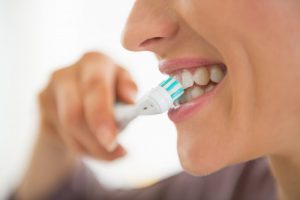 Brushing your teeth at least twice per day, and flossing at least once are critical aspects of a successful dental home care routine. If this is all you're doing, however, you may be missing another important step: brushing your tongue. Your dentist in Buffalo Grove explains why this is important.
Bacteria and Your Tongue
Did you know that your tongue is home to a lot of bacteria? It's true! Your tongue has crevices that are the perfect living space for bacteria, which can contribute to bad breath and tooth decay.
It is important to clean this bacteria every day, and unfortunately, rinsing your mouth isn't sufficient, even if it's with an antibacterial rinse. A mouth rinse can only kill the top layer of bacterial cells, leaving the bottom layer to grow and thrive on your tongue. Rinsing with water does even less.
Properly Cleaning Your Tongue
You can gently brush the bacteria away with your toothbrush, and this should be done at least once a day, if not every time you brush. Be sure not to scrub your tongue to hard, as you don't want to break the skin and cause an injury.
You might also choose to use a tongue scraper, which you can gently pull across your tongue from back to front. Tongue scrapers can be found at most drug stores.
The Dangers of Bad Breath
Are you cleaning your tongue daily and still struggling with bad breath? It's time to contact your dentist to schedule a cleaning and exam because you may be dealing with a bigger problem.
Chronic bad breath that doesn't go away is one of the early signs of periodontal (gum) disease. This is essentially an infection of your gums and jawbone, which are the main support system for your teeth.
Gum disease can often be successfully managed early on with a thorough cleaning and improvements to your home care routine. If it's left untreated, it will eventually destroy your jawbone and soft tissues, resulting in tooth loss.
If you have questions about your oral health or brushing your tongue, contact your dentist today for more information.
About Countryside Dental
Dr. Natalya Nagornaya enjoys taking care of patients in Buffalo Grove, IL and it shows! Patients appreciate the individualized attention and one-on-one care they receive when they work with Dr. Natalya. With a focus on building relationships and diagnosing with integrity, patients know they can trust that Dr. Natalya has their best interests at heart.
If you would like to contact Countryside Dental, Dr. Natalya can be reached by calling 847-634-2525 or online through her website.