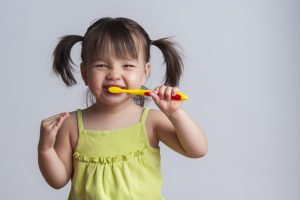 Your child's oral health is important and the ADA (American Dental Association) sets aside February to honor it with Children's Dental Health Month. You can make learning about oral health fun for your children to promote excellent oral hygiene. Your family dentist in Buffalo Grove explains how.
Purchase New Toothbrushes
Did you know you should be changing out your family's toothbrushes every 3 to 4 months? And right away if anyone has been sick.
You might consider changing your child's brush to an electric toothbrush if you haven't yet. These have timers to ensure they're brushing for at least two minutes and they do a lot of the hard work for your child. Electric brushes for children often come in fun colors or with their favorite characters, so let them in on the decision.
Use a Chart for Tracking
Create a colorful chart that can help track your child's brushing and flossing. Use stickers or colors for tracking and offer a small reward when they complete a week of brushing at least twice per day and flossing at least once.
Find the Plaque
Plaque-disclosing tablets are a fun and colorful way to demonstrate where your child needs to focus their brushing. You can use them after brushing to find the spots they've missed, and then they can brush away the color.
Lead by Example
Letting your child see you brush and floss and how you do it is an excellent motivation for them. You can brush together, or even let them have a chance to brush your teeth for you. (Don't forget to follow up on your own afterwards)
When they see mom or dad brushing and flossing they will want to follow suit.
Schedule a Dental Appointment
Your child should be visiting your family dentist every six months. It's important for them to build a relationship with their dentist, help them feel comfortable at the dental office, and early appointments allow their dentist to monitor their oral development.
If it's time for your child's next dental visit, be sure to contact your children's dentist to schedule an appointment. And have fun and make the most of Children's Dental Health Month!
About the Dentist
Dr. Natalya Nagornaya has been taking care of patients in Buffalo Grove, IL for over 15 years and she loves seeing children. Families will find a welcoming environment at Countryside Dental and comprehensive services for all ages.
If you would like to contact the office, we can be reached through our website or by calling 847-634-2525.