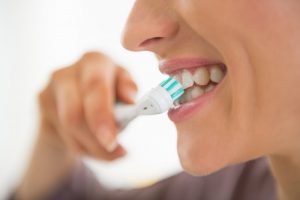 It starts off innocently enough. You may notice that your gums look red, or that they bleed when you floss your teeth; however, your teeth and mouth don't hurt. So is this cause for alarm? The answer is yes! This is an excellent time to contact your dentist for an examination since these are the early signs of periodontal (gum) disease. Here are the facts about gum disease:
What is Gum Disease?
Essentially an infection of the support system for your teeth, gum disease affects more than half of American adults in some form. The infection occurs when excess plaque buildup irritates your gums and causes them to separate from your teeth, which allows harmful bacteria below your gum line where it affects your jawbone.
Why Is it so Important to Treat Gum Disease?
If gum disease is left untreated, it will eventually result in tooth loss because it destroys your gums and jawbone.
Emerging information has also shown us that periodontal disease is directly related with other health concerns in the body such as diabetes, heart disease, high blood pressure, complications during pregnancy, and vice versa. We now understand that the bacteria that causes gum disease can travel through the bloodstream and affect other areas of the body.
Taking good care of your periodontal health means that you're also looking out for your overall health and well-being.
The Stages of Gum Disease
Gingivitis is the early stage of gum disease where you may notice your gums appear red, swollen, or bleed when you brush your teeth. Chronic bad breath that you can't seem to get rid of is also another sign of gingivitis.
If you notice any of these symptoms, contact your dentist to schedule an examination. Gingivitis that is detected early on can often be managed with a thorough professional cleaning and improvements to your home care routine. In some cases, this may be enough to reverse your condition.
Periodontitis is the advanced stage of gum disease. In this stage, you may begin to notice that your gums appear to be receding, your teeth may feel mobile, or you may have pain and tenderness when biting or chewing.
Periodontal therapy Grove includes a deep cleaning called scaling and root planing to remove plaque and tartar buildup from below the gum line. Antibiotic therapy may be recommended for some patients to help combat the infection, while surgery may be needed for severe cases of periodontitis.
If you have questions about gum disease, or if it's time to schedule your next dental visit, be sure to contact your dentist today.
About Countryside Dental
Dr. Natalya Nagornaya has over 15 years of experience in helping patients achieve and maintain optimum oral health. She focuses on providing comfortable dental services with a gentle and compassionate touch.
If you would like to contact Dr. Natalya's office, she can be reached by calling 847-634-2525 or through her website.