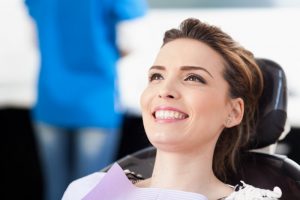 Your smile is an important tool you use to communicate with the world. If you don't feel confident about the appearance of your teeth, it may cause you to hide your smile from others, even when you don't realize you're hiding it. When you do feel good about your smile, it gives you the confidence to achieve great things! Are you ready to achieve your goals in 2019? Your cosmetic dentist in Buffalo Grove has options to help you reach your goals for your smile.
Teeth Whitening
Perhaps your smile just needs a quick boost? Teeth whitening is an economical and effective solution. Your dentist can deliver immediate results with an in-office whitening treatment, or help you brighten your smile from the comfort of your own home with a take-home system.
Porcelain Veneers
Are you looking to make more significant improvements? Porcelain veneers have the capability to completely redesign your smile since they can eliminate imperfections such as:
Gaps between teeth
Small chips and fractures
Slight misalignment issues
Discoloration and staining
Excessive wear
Size discrepancies and misshapen teeth
Veneers are very thin layers of porcelain that are customized to fit over your tooth. They can be blended to brighten the shade of your teeth or match your surrounding teeth so they can create a more harmonious and appealing appearance for your smile.
Crowns & Bridges
Are your teeth in need of greater repair? Perhaps you're even living with a failing tooth? Dental crowns are designed to fit over your remaining natural tooth and cover it like a cap. This allows them to restore cracks, fractures, and teeth that have been decayed beyond what a dental filling can repair. Crowns and veneers are often combined for a full smile makeover.
A bridge is a good solution for one or multiple missing teeth. It anchors to your healthy teeth with dental crowns and has prosthetic teeth attached to fill in the gaps.
Would You Like to Learn More?
Are you surprised to hear there are so many options for your smile? Would you like a treatment plan that is customized for your unique needs? The first place to start is by scheduling a consultation with Dr. Natalya Nagornaya to learn more about your options.
Make this the year you achieve all of your goals! Contact Dr. Natalya Nagornaya today to schedule your appointment.
About the Author:
Would you like to work with a Dentist who truly has your best interest at heart? Would you like to find a Dentist who has the skills and expertise to provide comprehensive dental care? If you answered yes – look no further than Dr. Natalya Nagornaya! Dr. Natalya has been taking exceptional care of patients for nearly 20 years, and patients love the personalized attention they receive at Countryside Dental in Buffalo Grove.
If you would like to contact our office, we can be reached by calling 847-634-2525.