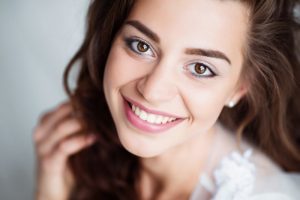 Did you know that smiling more could actually reduce your stress level? Studies have shown that smiling releases the chemical dopamine into the brain, which is responsible for producing feelings of happiness. Even a forced smile may help you get through stressful situations and adding laughter to the mix has proven to be even more powerful. Being able to laugh with others has been shown to help people withstand pain. But what if you don't feel confident about your smile? Your Dentist in Buffalo Grove can help!
What Are the Options for My Smile?
Many people feel that cosmetic dentistry is complicated and expensive; however, depending on your circumstances, enhancing your smile may not be as time-consuming or costly as you think!
Modern dentistry offers a lot of options for restoring teeth; whether you're dealing with chipping, discoloration, spaces, or even slight misalignment issues, there are straightforward and comfortable treatment options.
Porcelain Crowns & Bridges: A dental crown is designed to restore a tooth that has been fractured or decayed beyond what a filling can repair. A bridge offers solutions for patients with failing or missing teeth.
Porcelain Veneers: What if you could completely redesign your smile in two visits with your cosmetic dentist? Veneers can accomplish this with thin layers of porcelain that fit over your teeth and cover imperfections. This treatment can change the shade, shape, and size of your teeth.
Professional Teeth Whitening: Maybe your smile just needs a quick upgrade? Whitening your teeth is an affordable and fast way to enhance your smile with a significant impact. For many patients, professional whitening is all they need, and it can be completed during one visit to your dentist, or even in the comfort of your own home.
Would You Like to Learn More?
Would you like to reduce your stress level and boost your confidence in 2019? The first place to start to improve your smile would be to schedule a consultation with your cosmetic dentist in Buffalo Grove.
During this appointment, you'll receive information and recommendations about the best treatment procedures to help you meet your goals for your smile. You'll also have a plan that is tailored to your unique needs.
Let this be your year to shine! Contact your dentist today to schedule your consultation.
About Countryside Dental
Are you interested in achieving the smile of your dreams? Look no further than Dr. Natalya Nagornaya! Dr. Natalya has attended countless hours of advanced training in the field of cosmetic dentistry, and she's passionate about helping her patients smile with confidence. You will also appreciate the caring and welcoming atmosphere you find at Countryside Dental.
If you would like to contact Dr. Natalya, she can be reached online or by calling 847-634-2525.