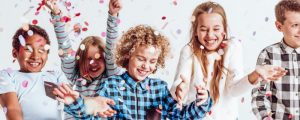 February is a special month. Not only is it the time when we celebrate love but it is also when we can spread awareness of risks to children's health. It's National Children's Dental Health Month! Now is the perfect time to evaluate how well we are teaching our children to maintain their adorable smiles. Does your child brush and floss every day? Do you take them to your pediatric dentist in Buffalo Grove every six months for checkups and cleanings? Maybe you need to improve a couple of things. February is the perfect time to start!
Common Dental Health Issue for Children
By far the most common dental health issue that children face is cavities. In fact, they are the most common chronic condition for children in the United States. About 20% of American children ages 5 to 11 have at least one untreated decayed tooth. If cavities persist without treatment, they can cause pain and infections, which can lead to issues with eating and speaking and interfere with your child's ability to play and learn.
Importance of Starting Early
It's never too early to start teaching your child how to care for their teeth. In fact, from their birth, you can help them fight plaque by massaging their gums with a washcloth. As their teeth come in, gently brush and floss their teeth daily. After their first birthday, you should bring them to your family dentist in Buffalo Grove for checkups every six months. By consistently practicing healthy oral habits with them, you teach your child that their mouths are worth protecting. If you can make oral hygiene a positive experience and encourage them to do these tasks for themselves, they will be more likely to continue these habits into adulthood. By starting sooner rather than later, you can help set them up for success in their oral health.
Making Oral Health Fun
Brushing and flossing your child's teeth doesn't have to be torture. You can make it more fun for both of you. Start by allowing them to pick out the toothbrush they want to use at the store. To make brushing itself more fun, you could play music and treat brushing like a dance. Consider using a plaque disclosing tablet to show your child where they need to clean better. This visual can also be a powerful reminder about the importance of cleaning their teeth thoroughly. Especially for young children, you could create a sticker chart, and for every day that they brush and floss, they get a sticker. When the chart is full, you can give them a reward, such as a special outing.
In the end, you want your child's smile to remain happy and healthy for many years to come. By implementing good oral habits into their routine, you can help them prevent cavities and other oral health problems, so they can focus on playing, learning, and just being a kid. Take the opportunity this month to recommit to your child's dental health, so they can enjoy their teeth now and in the future.
About the Author
Dr. Natalya Nagornaya has nearly fourteen years of dental experience, making her a trusted source for comprehensive dental care in cosmetic, restorative, and general dentistry. At Countryside Dental, she happily welcomes patients of all ages, including children, and has a gentle touch to make the experience more comfortable. To schedule an appointment with her, you can call (847) 634-2525 or click here.