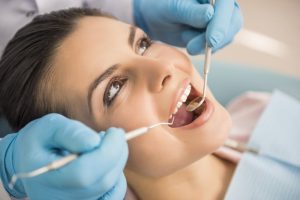 Oral cancer. It may be one type of cancer that we don't hear much about, but did you know that it's responsible for one death every hour in America? Worse yet, these numbers have not improved over the years since oral cancer is typically not detected until its more advanced stages. This is why consistent visits to your dentist are so important because they can detect oral cancer in its earliest stages, which makes for a better prognosis. Here's what your dentist in Buffalo Grove would like you to know about oral cancer.
What Is Oral Cancer?
Oral cancer is defined as cancer in the head and neck region of the body, except for the brain, which has its own category. Oral cancer can be tricky to diagnose on your own because there is not much pain or even many symptoms associated with its early stages, and it often manifests looking very much like a canker sore. Some signs to look out for are:
A lesion or sore in your mouth that does not heal within 14 days
Pain or discomfort when swallowing, chewing, or speaking
Numbness in your mouth or face
A lump or mass inside the mouth or neck – typically painless
You are your best advocate when it comes to symptoms of oral cancer. If you notice any suspicious changes to the tissues in your mouth or throat, contact your dentist right away for an examination.
Risk Factors for Oral Cancer
There are a few lifestyle choices such as tobacco use and nutrition that can increase your risk of developing oral cancer. People who use tobacco products have a higher risk of developing oral cancer, and when you combine tobacco with alcohol, your risk increases another 15 times. Diets that are low in fruits and vegetables can also be a risk factor for oral cancer.
Your Best Defense Against Oral Cancer
Consistent visits with your dentist for routine examinations every six months are your best defense against oral cancer. Your Buffalo Grove dentist can detect oral cancer much earlier than you can on your own, so you can begin treatment as soon as possible if necessary.
Is it time for your next preventive dental visit? Contact your dentist today to arrange a convenient time for your next visit.
About Countryside Dental
Are you thinking, "I need to find a dentist near me?" If you're looking for exceptional and compassionate dental care in Buffalo Grove, IL, look no further than Dr. Natalya Nagornaya and her team at Countryside Dental. With a focus on preventive dentistry, Dr. Natalya hopes to help you avoid many dental concerns and especially oral cancer.
If you would like to contact Dr. Natalya, she can be reached by calling (847) 634-2525 or online.