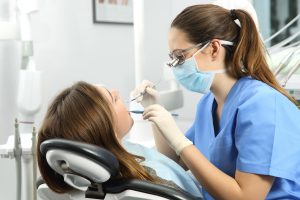 According to a recent Harvard University study, people with gum disease have two-to-three times the risk of suffering a severe cardiovascular event. Researchers have also discovered that your heart is not the only body part threatened by gum disease. While you're busy planning healthy diets, exercising regularly and trying to keep your stress levels low, you may be overlooking a strong oral hygiene routine, which is just as important for a healthy body. In this post, you'll learn how to keep your entire body happy and healthy.
What's the Connection Between Mouth and Body?
It may seem like a strange link, but researchers have long believed that gum disease (also known as periodontal disease) increases the risk of other diseases throughout the body. Gum disease is the serious inflammation and infection of your gums. It is most often caused by poor oral hygiene. When left untreated, gum disease can lead to bacteria severely damaging your teeth and tissue.
According to recent studies, said bacteria doesn't just harm your mouth. The bacteria plaguing your gums can enter your bloodstream and travel to blood vessels across your body.
Which Diseases Can Arise?
Researchers have identified a link to multiple serious conditions, some involving major organs.
Heart Disease
The connection between gum and heart disease has been traced to a specific bacterium: streptococcus sanguis. This germ spreads to the arteries once it enters the body from the mouth. Once there, the bacterium causes blood vessel inflammation and damage, leading to blood clots, heart attacks and even strokes.
Dementia
Gum disease has been found to increase the risk of dementia later in one's life. Periodontal problems have also been associated with milder cognitive impairments, including memory problems that complicate daily activities.
Diabetes
While gum disease does not cause diabetes, those with diabetes have a higher risk of suffering from periodontal issues. This is due to diabetics' lowered immune systems and higher likelihood to contract infections.
How Can I Prevent Gum Disease?
Gum disease can have serious and even fatal effects. However, it can be easily avoided by maintaining a strong oral hygiene routine. Healthy habits you should implement include:
Brushing and flossing your teeth daily
Visiting your dentist twice annually for checkups and cleanings
Using mouthwash to clean up any remaining plaque
Avoiding the use of tobacco
Enjoying a nutritious and well-balanced diet
Keeping a careful eye out for gum disease is an investment into your full body health. If you believe you may be suffering from gum disease, reach out to your local dentist in Buffalo Grove.
About the Author
At Countryside Dental, Dr. Natalya Nagornaya has nearly 15 years of experience caring for patients. She offers general, cosmetic and restorative dental treatment. Dr. Nagornaya is a member of the American Dental Association, Illinois State Dental Society, and Chicago Dental Society. If you have further questions about gum disease, she can be reached through her website or at 847-634-2525.