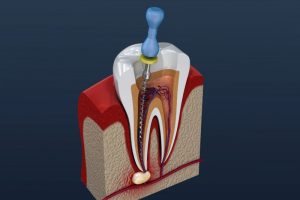 Is one of your teeth in serious pain that just doesn't seem to go away no matter what you do? This might be a sign that you need a root canal. Although a root canal may sound scary, it can help solve a lot of problems in your tooth. Let's look at 6 signs that you might need a root canal in Buffalo Grove.
What Is a Root Canal?
A root canal is a procedure to treat a tooth that has an infected pulp, or inner tissue. Treatment usually takes two appointments. At your first visit, your dentist in Buffalo Grove will numb the area and create a small hole in your tooth to access the inside. They will remove the infected or damaged parts of the tooth, replace it with synthetic material, and then cover the tooth with a temporary crown while a permanent one is being crafted in the lab. After you have healed from the procedure, you will come back to the office and receive your permanent crown, and your tooth will be good as new! But how do you know when you need a root canal? Let's talk about 6 signs that you might need one.
1. Do You Have Persistent Pain in a Tooth?
One of the most common signs that you need a root canal is continuous pain in the tooth. This could mean that there is damage to the nerves inside the tooth, and they need to be removed.
2. Is There a Serious Cavity in Your Tooth?
If you have a cavity, even a small one, you should get it filled as soon as possible. When left untreated, cavities grow until they eventually reach the inside of the tooth. When decay spreads to the nerves, it causes severe pain. You will likely need a root canal to treat this pain.
3. Is Your Tooth Sensitive to Heat and Cold?
If drinking a hot cup of coffee makes a searing pain shoot through your tooth, you might need a root canal. This is one of the most common signs. Cold food and drinks can also cause this pain. This might be the result of damaged nerves inside the tooth. Your dentist may prescribe a root canal to remove those nerves.
4. Is the Gum Area Around the Tooth Swollen?
Swollen gums are the result of a problem beneath the surface. Your dentist will examine the area to determine what the issue is. Sometimes, more frequent brushing and flossing can rid gums of swelling, but other times a root canal may be necessary.
5. Do You Have a Chip or Crack in Your Tooth?
When your teeth get cracked or chipped from injury or eating very crunchy foods, they become more susceptible to decay. Bacteria can more easily enter the sensitive inner layer of the tooth and cause pain so severe that a root canal is needed.
6. Is There Dark Discoloration of the Tooth?
A discolored tooth could be a sign of decay underneath the tooth's surface. If you have a tooth that is a different color than those surrounding it, let your dentist know right away.
Root canals might have a reputation of being painful, but they can actually rid you of the pain of an infected tooth nerve. The important thing is to not put off the procedure any longer than you have to. Once the treatment is done, your tooth will feel much better. If you experience any of the signs listed above, be sure to tell your dentist right away.
About the Author
Dr. Natalya Nagornaya has nearly fourteen years of experience as a dentist who provided excellent levels of care in all areas of dentistry, including root canals and crowns. She is a member of the American Dental Association, the Illinois State Dental Society, and the Chicago Dental Society. To learn more about how she can relieve your tooth pain with a root canal in Buffalo Grove, IL, click here or call (847)-634-2525.