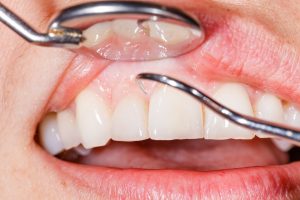 Over time, have you noticed your gums don't sit as high on your teeth as they did before? You might be experiencing gum recession. While it might seem like nothing more than an aesthetic concern, it can actually harm your dental health because it leaves the roots of your teeth exposed. Thankfully, your dentist has the solutions you need to treat gum disease in Buffalo Grove and save your smile.

What is Gum Recession?
Gum recession is a gradual process of your gingival tissue pulling away from your teeth. Your teeth may look larger than before while you may also see the roots of your teeth. This makes it easy for bacteria to become trapped in the space between the tissue and your teeth, significantly increasing your risk of gum disease.
If gum disease isn't treated quickly, it will continue to destroy the supporting structures of your teeth. Eventually, your teeth may loosen and fall out. Your mouth isn't the only area to experience complications. The bacteria responsible for the infection can enter your bloodstream, increasing your risk of several health issues, like heart attack, respiratory infections, and Alzheimer's disease.
Besides gum disease, there are other issues that can cause the recession, such as genetics, aggressive brushing habits, and bruxism. Your dentist will address the underlying cause to prevent future damage while also creating a personalized treatment plan to repair the tissue.
What are the Signs of Gum Recession?
There is one common symptom of gum recession that may occur even before you visibly notice any change to the tissue. Tooth sensitivity is common because your root won't have the protection they need. Your teeth may also look longer, and you might feel a notch near the gum line.
How is Gum Recession Treated?
Besides repairing the tissue, you may need an additional procedure to treat the source of the recession, like periodontal therapy. Depending on the extent of the damage to your gum tissue, you may need a gum grafting procedure. This restores your gum tissue back to its proper height on your teeth to cover your tooth roots.
Restore Your Gum Health
If you notice a change to your gum health or the tissue's positioning on your teeth, don't wait until it's too late to see your dentist. They will perform a comprehensive consultation to identify the root cause of the problem and execute a personalized treatment plan. Your dentist will repair the damage and save your smile.
About Dr. Natalya Nagornaya
Dr. Natalya Nagornaya has over 14 years of experience in the dental field. She is a trusted source for cosmetic, restorative, and general dentistry needs. Because of her training and qualifications, she can treat complex dental health issues, like gum recession. Whether you have gum disease or you're brushing too hard, she has the individualized treatment you need to restore the health and aesthetics of your smile. Contact our office today to schedule your consultation.