March 11, 2020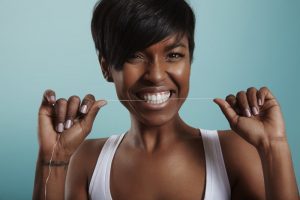 Recent statistics suggest that roughly two thirds of the American population floss their teeth at least occasionally. This important dental hygiene practice is your best defense against cavities between your teeth and a serious bacterial infection known as gum disease. However, flossing your teeth incorrectly won't do them much good. To get the most out of this part of your dental routine, try this step-by-step guide from your Buffalo Grove dentist on how to floss properly.
Step 1: Using the Right Amount of Floss
The American Dental Association recommends using about 18 inches of new dental floss per session. While this may seem like an excessive amount, it's an important part of effectively removing debris from your mouth as you clean. You need to use a fresh bit of dental floss for each tooth. Using a dirty length may redeposit some of the plaque and bacteria into those hard-to-brush areas.
Step 2: How to Properly Hold Floss
Wrap most of the floss around one of your middle fingers and the rest around the same finger on your other hand. Hold the floss tightly between your thumbs and forefingers. You will use a small length of fresh, clean floss from the first finger to clean each tooth. Once it's been used, you can collect the dirty floss by wrapping it around the finger on the opposite hand.
Step 3: Gently Fit the Floss in Place
To fit the floss between your teeth, use a gentle rubbing motion and guide it into the small space. Never snap the floss into place, as this could damage your gums.
Step 4: Reaching Just Below the Gumline
When the floss reaches your gumline, curve it around the side of one tooth. It should resemble a C shape. Then, softly slide it into the shallow space between the tooth and gums. Lift the floss above the gumline again, invert the C shape, and repeat the process with the neighboring tooth.
Step 5: Cleaning Between Teeth
Holding the floss tightly against your tooth, lightly rub its side by moving the floss up and down. Apply these motions to the neighboring tooth as well. Once you've finished cleaning that space, carefully bring the floss out, shift the amount on your fingers so that you're holding a fresh length, and move onto the next space between teeth until you've cleaned your whole smile.
Floss the Teeth You Want to Keep
Although flossing isn't a very popular oral health habit, it's a key practice in preventing gum disease. This common bacterial infection is caused by a buildup of plaque and tartar between the teeth and near the gumline. While its initial symptoms may be easy to overlook, it can lead to tooth loss if these hard to reach spaces are left uncleaned. If you want to keep your smile healthy and intact, practice flossing every day!
About the Author
Dr. Natalya Nagornaya of Countryside Dental in Buffalo Grove, IL has been serving happy, healthy smiles of all ages for 14 years and counting. She highly encourages all her patients to get their dental checkups at least twice a year to go over best dental routine practices and prevent issues like gum disease from developing. However, if a gum infection is detected, she offers several treatments that can revitalize your smile. If you have questions about flossing or gum disease, feel free to contact her via her website or at (847) 634-2525.
Comments Off

on Practice Flawless Flossing with 5 Easy Steps
No Comments
No comments yet.
RSS feed for comments on this post.
Sorry, the comment form is closed at this time.