May 22, 2020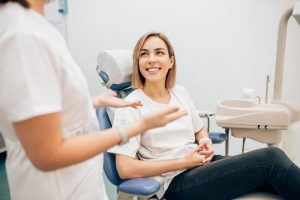 You've spent the COVID-19 pandemic staying as safe as possible. You've quarantined, social distanced, and gone out as infrequently as possible. Now that businesses are starting to open back up, it's important to remember that the virus is still around and to keep taking safety measures. As dental offices re-open, they are putting strict sanitation and hygiene protocols in place to keep their communities healthy. Learn what steps your emergency dentist in Buffalo Grove is taking to protect their patients.
Health Screenings & Safe Visits
Regardless of the type of appointment, your dentist will always check on your health history. During the pandemic, practices are taking this a step further and screening patients before their appointment. When you arrive, you will receive a no-touch temperature screening as well as a questionnaire to assess the likelihood that you have been exposed to the virus. Each member of the dental team goes through this procedure each day to ensure that they will not pass any diseases on to you.
Many practices are also reconfiguring their waiting practices and appointment scheduling. You may be able to check-in and wait for your appointment from your car. Additionally, practices are scheduling fewer appointments in a day to minimize the amount of people in the office at any one time.
Use of Advanced PPE
PPE (personal protective equipment) is always a staple of the dental office. Dentists, hygienists, and assistants always use gloves, masks, and sterile instruments while providing your dental care. For the safety of the community, they are now incorporating additional PPE such as face shields and surgical gowns to even further minimize the spread of microorganisms, bacteria, and viruses. Even the front desk team will be equipped with masks and will avoid handshakes and hugs to keep their patients safe.
Rigorous Sterilization Practices
In response to COVID-19, dental practices are taking the already strict CDC guidelines for sterilization to the next level. After every appointment, both the operatory and the instruments used are completely disinfected. This includes every exposed surface, such as light switches, doorknobs, countertops, and any materials touched during the previous appointment. You can be confident that your operatory and dental instruments will be absolutely sterile.
Team Training
Many dental practices are having their teams undergo additional disease prevention and virus awareness training. Some teams are appointing Infection Control Coordinators to monitor the practice's safety protocols and make sure that each of them is being followed to the letter every day.
The safety of their patient community is every dentist's first priority. Dental teams across the country are doing everything they can to make sure that you can get the care you need in a completely sterile environment. After each dental appointment, you'll leave the office healthier than when you came in.
About the Author
Dr. Natalya Nagornaya wants her patients to have optimal oral health. She loves to transform lives with her dentistry and to exceed her patients' expectations. She graduated dental school from the University of Illinois College of Dentistry and has committed herself to continuing her education to provide the absolute best for her patients. She is a member of prestigious dental organizations like the American Dental Association and the Illinois State Dental Society. If you'd like to find out more about how she and her team at Countryside Dental are keeping their community safe during the pandemic, call the office at (847) 607-6532 or send them an email. They will be happy to help you.
Comments Off

on Safety First: How Your Dental Office is Helping to Keep Your Community Safe During the Pandemic
No Comments
No comments yet.
RSS feed for comments on this post.
Sorry, the comment form is closed at this time.