June 17, 2020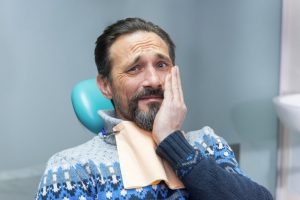 Taking care of your teeth and gums is about much more than protecting your pretty smile. Your oral health plays a key role in your overall wellbeing, and the state of your mouth can tell you a lot about the rest of your body. In fact, research suggests that over 90% of systemic, whole-body health conditions present symptoms in the mouth. Your Buffalo Grove dentist explains seven common concerning dental symptoms and what they may mean for your general health.
1.) Tooth Sensitivity
If the hard shell of enamel on your teeth becomes damaged or worn down, your teeth may become painfully sensitive when exposed to hot, cold, sweet, or acidic foods and beverages. While this could be the result of bad oral habits or damaged teeth, it can also indicate nightly teeth grinding, gastroesophageal reflux, or bulimia.
2.) Chronic Bad Breath or Bad Taste in the Mouth
Persistently less-than-fresh breath or an unpleasant taste in your mouth can easily develop without proper oral hygiene. However, they may also be warning signs of larger health conditions like diabetes, respiratory infections, or kidney disease.
3.) Loose Permanent Teeth
A loose permanent tooth is an unsettling feeling that should be seen by your dentist right away. An X-ray can be taken to investigate your oral health beneath your gumline. If they discover that your tooth is loose because of a loss in jawbone density, your dentist may recommend seeing your general practitioner about osteoporosis.
4.) Long-Lasting Tooth Pain
Unfortunately, a wide variety of factors can cause tooth pain. However, a long-lasting and intense toothache is a tell-tale sign of a dental infection. Not only does this issue impact your oral health, but it can set off an immune response that impacts your entire body. Eventually, it may lead to fever, fatigue, and other serious consequences.
5.) Aching, Inflamed, & Easily Bleeding Gums
The minor symptoms of the early stages of gum disease can be easily overlooked by accident. However, if left untreated, this bacterial infection will grow strong enough to damage the jawbone and cause tooth loss. What's more, experts have found an undeniable connection between gum disease and arthritis, memory loss, birth complications, and heart disease.
6.) Strange Patches, Crusts, or Sores in the Mouth
Any new or unusual symptoms in your mouth should be looked at by your dentist right away, even if they don't cause discomfort. Unusual patches of discoloration, new sores, or strange crusts in your mouth could be signs of oral cancer. Although more than 50,000 Americans a year are diagnosed with this serious condition, it can typically be successfully treated if caught early enough.
7.) Constant Jaw Soreness
Do you suffer from constant jaw soreness? Do you often wake up with headaches? These symptoms may be pointing to bruxism, which is a condition that involves grinding your teeth in your sleep. The nightly extra pressure can weaken or break your teeth, and can eventually lead to tooth loss, hearing loss, TMJ disorder, and a broken sleeping pattern.
Remember, always talk to your dentist if you experience new or unusual dental symptoms. When you take care of your smile, your whole body will thank you!
About the Author
Dr. Natalya Nagornaya of Countryside Dental has been serving the smiles of Buffalo Grove, IL for over 15 years now. As an active member of the American Dental Association, the Illinois State Dental Society, and the Chicago Dental Society, she stays up to date with all the latest dental technologies and techniques. She is proud to provide superior dental care that is based upon family values, lasting relationships, and excellent oral health. If you have any concerning dental symptoms, don't hesitate to contact her via her website or at (847) 634-2525.
Comments Off

on 7 Dental Symptoms That May Indicate Larger Health Issues
No Comments
No comments yet.
RSS feed for comments on this post.
Sorry, the comment form is closed at this time.