November 9, 2020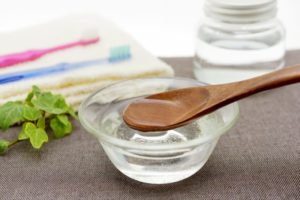 You're standing in the mirror brushing your teeth when you notice a few drops of red in the sink. If you have inflammation or bleeding gums when you brush or floss, you may have the beginnings of gum disease. If you have symptoms of gingivitis in Buffalo Grove, you should visit your dentist. But until then, here are a few tips to help stop bleeding gums at home.
Saltwater Rinse
Salt is a natural disinfectant and can assist in healing. Saltwater can soothe inflamed gums, reduce bacteria, relieve bad breath, and help ease pain. Simply mix one teaspoon of salt with a half cup of warm water and swish around in your mouth for about 15-30 seconds.
Coconut Oil Pulling
Coconut oil has anti-inflammatory and antimicrobial attributes. It is also known to help whiten teeth, freshen breath, and relieve headaches and tension. To do a coconut oil pull, take 1 or two teaspoons of liquified coconut oil into your mouth and swish it around for 20 to 30 seconds. Once you spit it out, rinse your mouth with water. Follow this process by drinking a full glass of water and brushing your teeth.
Clove Oil Application
Due to their antiviral and antioxidant qualities, cloves may have the ability to minimize inflammation and prevent plaque altogether. In order to use cloves to help reduce gingivitis symptoms, dip a cotton ball into clove oil, rub it on your gums, and let it sit for one minute. After you've done this, rinse your mouth with water to remove all bits of cloves and spit the water out. Just remember that this is not a long-term treatment.
Tea Tree Oil Rinse
The properties in tea tree oil can drastically reduce inflammation and bleeding. Two or three times a day, add up to three drops of pure tea tree oil to one cup of warm water. Swish it in your mouth for about 30 seconds and spit it out. If needed, you can also add a drop of tea tree oil to your toothpaste to reduce bad breath and diminish plaque.
While these tips can provide short term relief, it's important to visit your dentist at the first signs of gingivitis. But between appointments, you can minimize your risk of developing gum disease by making sure you brush twice a day and use dental floss and a natural mouthwash once a day.
About the Author
At Countryside Dental, Dr. Natalya Nagornaya can help resolve your gingivitis in Buffalo Grove. She is an active member of the American Dental Association, the Illinois State Dental Society, and the Chicago Dental Society. With continuing education being one of her top priorities and nearly 14 years of experience, Dr. Nagornaya uses advanced dental technology and offers her patients professional care. For more information on gum disease treatments at Countryside Dental, visit the website or contact the office at (847) 634-2525.
Comments Off

on 4 Fast-Acting Home Remedies to Treat Bleeding Gums
No Comments
No comments yet.
RSS feed for comments on this post.
Sorry, the comment form is closed at this time.