December 30, 2020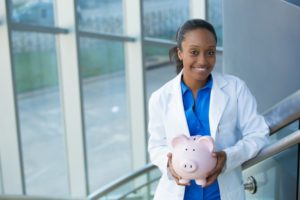 About half of all adults in the United States currently have some form of gum disease, according to the Centers for Disease Control and Prevention. Not only is this common problem often uncomfortable, but it can also result in permanent oral health consequences, like tooth loss. Luckily, many of the same practices that can help you avoid gum disease in Buffalo Grove can also save you money, especially if you have dental insurance. Continue reading to learn three easy ways to prevent gum disease and save money in the long run.
1. Schedule Your Covered Checkups & Cleanings
The majority of dental insurance plans cover the cost of preventive care, including routine checkups and cleanings, at 100%. These appointments give your dentist a chance to diagnose early warning signs of gum disease, like persistent bad breath or bleeding when brushing or flossing. Because gum disease often doesn't present noticeable symptoms in the early stages, scheduling just two hour-long visits a year can help you plan to address your gum disease before it permanently damages your smile.
2. Take Advantage of Your Annual Maximum by Getting Gum Disease Therapy
If your dentist has confirmed that you're showing signs of early gum disease, you can still save your oral health. Try to schedule your treatment as soon as possible after your diagnosis. If you've already met your deductible but haven't reached your annual maximum yet this year, you should seek treatment before your plan resets on January 1st. Otherwise, you'll have to pay your deductible all over again in addition to any other out-of-pocket costs.
3. Save Money by Visiting an In-Network Dentist
In order to truly make the most of your dental insurance in Buffalo Grove, you should ideally see an in-network dentist. How exactly does this process work? It's simple. A dentist who is in-network with your insurance plan has formed a contract with your insurance company to require lower fees on services. The dentist then passes all of those savings along to you, making your care more affordable and minimizing your out-of-pocket costs.
The best way to avoid gum disease is by focusing on preventive care. Because your insurance will likely foot most of the bills for these appointments, it's also the best way to save money on dental care! Even if you currently have gum disease, you can still maximize your insurance benefits and keep your smile healthy by visiting your dentist on a regular basis.
About the Author
At Countryside Dental, Dr. Natalya Nagornaya can help you save money and avoid gum disease. With nearly 14 years of experience and a dedication to continuing education, Dr. Nagornaya uses advanced dental technology and offers her patients world-class care. Her practice is in-network with many dental insurance plans, including BlueCross BlueShield, Aetna, and Delta Dental. For more information on gum disease prevention, visit her website or contact her office at (847) 634-2525.
Comments Off

on 3 Ways to Avoid Gum Disease and Make the Most of Your Dental Insurance
No Comments
No comments yet.
RSS feed for comments on this post.
Sorry, the comment form is closed at this time.