February 10, 2021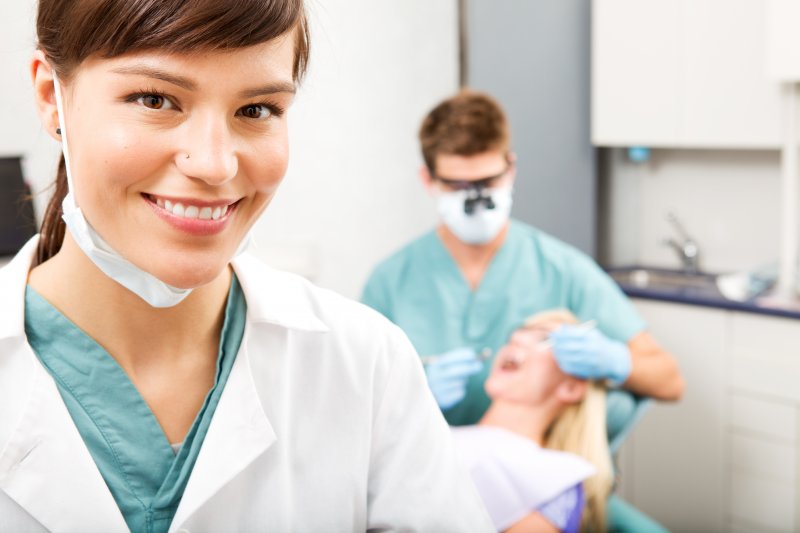 If you think the dentist and dental hygienists are the only individuals who keep a practice running smoothly, you'll be surprised to learn that it not the case. Integral to the success and day-to-day operations are dental assistants who have many important responsibilities. From sanitizing instruments and keeping track of inventory to keeping patients calm and dentists working more efficiently, they're vital members of any dental practice. Since the first week of March is Dental Assistant Recognition Week in Buffalo Grove, here are a few reasons why we should all celebrate dental assistants.
They Help Keep You Safe
It's normal for dental assistants to be fully aware and knowledgeable about the health and safety protocols that must be taken to keep patients and staff safeguarded against harmful bacteria and pathogens. However, when throwing a global pandemic into the mix, these individuals are going above and beyond to ensure their dental offices adhere to the growing list of recommendations put forth by the Centers for Disease Control and Prevention (CDC), American Dental Association (ADA), and the Occupational Safety and Health Administration (OSHA).
They Ensure Your Visit Goes Smoothly
Long before you arrive for your appointment, a dental assistant ensures all instruments are clean and thoroughly sanitized as well as the chair, overhead light, and any other areas of the treatment room that are frequently touched (i.e., countertops, door handles). They make sure the appropriate instruments are ready and available to the dentist as well. Depending on the number of staff in the office, they may also be the ones checking your temperature when you arrive as part of the new COVID-19 protocols. By maintaining this system, they keep patient appointments on time.
They Make it Easier for the Dentist
Much like a nurse helps the doctor in the emergency room, a dental assistant helps provide the dentist with anything they might need throughout a general checkup or procedure. From taking dental X-rays to handling the dental instruments to paying close attention to limiting the spread of harmful bacteria, dental assistants are hands-on and ready to help with every patient. Not to mention, they will also capture impressions as provide post-operative care to individuals who will need to spend time at home recovering after their oral surgery.
They Help Outside the Treatment Room
While you might think a dental assistant is only found next to the dentist, inside the treatment room, the truth is that they are often at the front desk as well. Their responsibilities extend beyond sanitizing and handling dental instruments. They also order inventory, schedule appointments, submit insurance claims, and file necessary paperwork. This is why they are often viewed as multi-taskers because they take care of a multitude of responsibilities both inside and outside the treatment room.
The next time you visit your dentist for a regular checkup and cleaning, make sure to let your dental assistant know how much you appreciate the work they do. It can certainly mean a lot and make a difference in their daily lives.
About the Author
Dr. Natalya Nagornaya graduated from the University of Illinois – College of Dentistry in 2001. With 14 years of experience, she is proud to serve the residents of Buffalo Grove and its surrounding communities. Patients who seek her expertise can expect nothing but the very best. Dr. Nagornaya and the team at Countryside Dental work hard to make residents feel at home each time they visit. From her kind and compassionate approach to her committed hygienists, assistants, and administrative team, everyone goes the extra mile to exceed expectations day-in and day-out. If you are looking for a dental team that is passionate about your oral health, contact us at (847) 634-2525.
Comments Off

on 4 Reasons to Celebrate Dental Assistants
No Comments
No comments yet.
RSS feed for comments on this post.
Sorry, the comment form is closed at this time.