August 10, 2022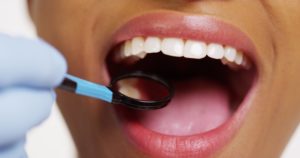 My teeth look and feel fine, so do I really need a dental checkup? If you've wondered this yourself, you're certainly not alone. Many people are under the misconception that biannual checkups and cleanings are just about checking for cavities. However, this couldn't be further from the truth! In fact, getting regular dental checkups in Buffalo Grove could potentially even save your life. Here are six things you didn't know your dentist was doing as part of your routine dental checkup.
1.) Screening for Oral Cancer
Do you know what the signs of oral cancer are? Like many other oral health issues, this type of cancer can develop and get worse without drawing too much attention to itself until its become a significant problem. Researchers estimate that about 11,000 people die each year from oral cancer, not because it's hard to treat, but because it's not usually caught until the later stages. During your routine checkups, your dentist takes a close look for any indications that cancer may be developing that you might not have noticed yet.
2.) Checking Your Salivary Glands
Your saliva is more important than you might think. It plays a key role in washing away plaque buildup in your mouth and delivers calcium to your enamel. To make sure it's functioning normally, your dentist will dedicate part of your checkup to checking on your salivary glands.
3.) Examining Your Gums
A gum health check is performed at each of your checkups, measuring how deep the gum pockets are in front of your teeth. Your dentist will also perform other tests to see if your gums exhibit any signs of infection. Gum disease is incredibly common in the US, and it's even credited as the leading cause of tooth loss in America! By checking your gums, your dentist will be able to detect gum disease early and help you address it right away.
4.) Assessing Your Bite
How your bite comes together can be tough to notice on your own, so your dentist will evaluate it during your checkup. An uneven bite can not only distract from your appearance, but put your teeth in danger as well. The shape of your mouth naturally changes with age, so it's important to monitor your bite regularly.
5.) Checking Your Restorations
Do you have fillings, crowns, veneers, or other restorations? Your dentist will take a thorough look at them to ensure they're not damaged or weakened. If any of them are loose or compromised, they can recommend a treatment plan now instead of waiting for when the restoration suddenly falls out!
6.) Looking for Systemic Health Issues
Did you know that over 90% of systemic health issues show symptoms in the mouth? Your dentist knows this quite well, which is why they'll also be on the lookout for very specific signs of overall problems. For instance, enamel erosion on the back of the teeth could mean acid reflux is to blame, or persistent bad breath could indicate diabetes. Your dentist could be the first person to spot serious health issues that are developing so you can get them treated as soon as possible.
Your dentist is looking for a lot more than just cavities during your dental checkups. If it's been more than six months since your last visit, give them a call today!
About the Practice
Dr. Natalya Nagornaya of Countryside Dental in Buffalo Grove has been helping patients achieve and maintain optimal oral health for over 19 years. She is an active member of several prestigious organizations, including the American Dental Association and the Chicago Dental Society. She has completed a variety of continuing education courses in advanced topics to ensure she can provide the best care for her patients. If it's time for your next checkup, she can be reached online or at (847) 634-2525.
Comments Off

on 6 Things You Didn't Know Your Dentist Was Doing During Your Checkup
No Comments
No comments yet.
RSS feed for comments on this post.
Sorry, the comment form is closed at this time.