September 22, 2022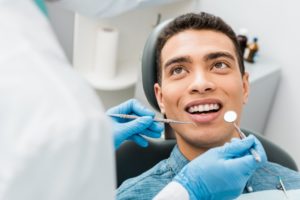 Have you scheduled your bi-annual checkups and cleanings with your dentist this year? With the new year right around the corner, it may be time to do that before your dental insurance benefits expire! Staying on top of your oral health can not only ensure that your smile stays healthy and continues looking great, but it can also improve your overall well-being, saving your wallet and monthly budget from steep, unexpected expenses down the road. Read on to learn three ways scheduling your dental checkups and cleanings every six months can help you save.
Improving Your Overall Health
Countless studies have shown that common oral health problems like gum disease can impact your overall health by increasing your chances of developing heart problems, Alzheimer's, and much more. By investing in preventive dentistry and going to your bi-annual checkups and cleanings, your dentist can help not only keep your smile looking great, but also care for your overall well-being by preventing worsening gum disease symptoms. If they do spot the early signs of this disease, they can treat it before it has a chance to impact your physical wellness.
Tackling Common Oral Health Problems Early
If you have dental insurance, it costs drastically less to visit the dentist regularly for checkups and cleanings than waiting until something small, like dental sensitivity, turns into a bigger problem that requires a more invasive treatment, like root canal therapy.
Most dental insurance plans cover 100 percent of the cost of two checkups and cleanings a year and 80 percent of the cost of basic treatments, like cavity fillings, making staying on top of your oral health a money-saver. If you wait until you start experiencing painful symptoms to visit the emergency dentist, not only will you need to pay a higher out-of-pocket fee for the service, but you'll also likely require more invasive dental work than if the problem would have been caught earlier.
Utilizing Your Insurance Benefits to the Fullest
As mentioned above, most dental insurance plans cover 100 percent of the cost of two checkups and cleanings a year scheduled six months apart. Each year, on the first of January, your benefits reset, so if you didn't utilize your two covered dental visits, they won't roll over to the next year and you won't get the most out of your investment in coverage. Because your checkups and cleanings won't cost a cent, you won't be losing anything when you schedule both of them every year! In fact, you'll be gaining peace of mind that your smile is in great shape.
Although it may seem like an inconvenience to plan two checkups and cleanings with your dentist each year, it's well worth your time to do so! You'll be able to save money as well as rest-assured that your oral and physical health is on the right track. Schedule your appointment today before your benefits renew on January 1st!
About the Author
Dr. Natalya Nagornaya has over two decades of experience as a dentist under her belt. She's passionate about helping her patients maintain healthy smiles for a lifetime by providing educational and detail-oriented preventive dentistry. To help make this possible, she's proud to be an in-network provider with most major dental insurance plans, including Blue Cross Blue Shield, Aetna, Delta Dental, and many more! For questions or to schedule your routine checkup and cleaning, visit Countryside Dental's website or call 847-634-2525.
Comments Off

on 3 Ways Scheduling Your Dental Checkups & Cleanings Can Help You Save
No Comments
No comments yet.
RSS feed for comments on this post.
Sorry, the comment form is closed at this time.