November 5, 2022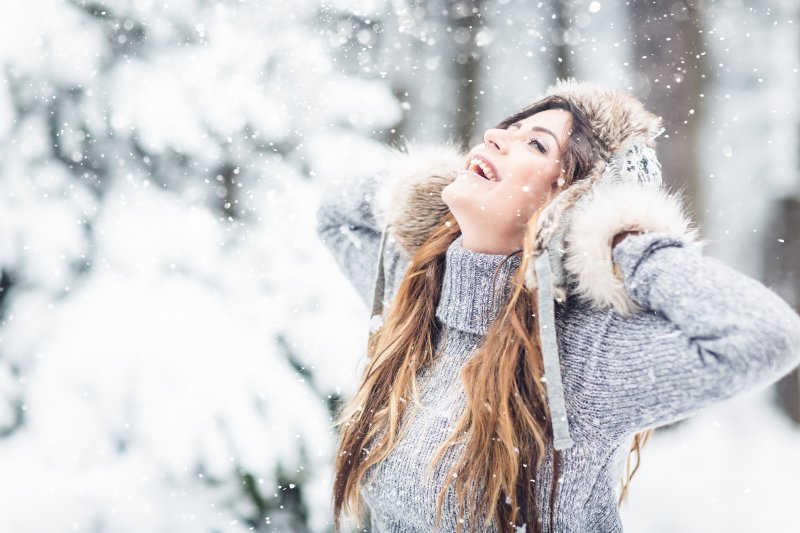 There's a lot to appreciate about winter. You might want to enjoy the season to the fullest, but have found that oral health problems are holding you back. Whether it's sensitive teeth, cracked lips, or a tongue that feels like a winter tundra, you shouldn't let anything stop you from enjoying the season to its fullest. Here's a guide to a few common winter mouth issues, and how to deal with them.
Dry Mouth
In the winter months, the air starts to get noticeably drier. If you've ever felt the need to slather on the lotion come November, that's why. The winter is also peak cold and flu season, so more people than usual are walking around with their noses stopped up. Those people tend to breathe through their mouths instead. Combine that with dry, winter air and you have a recipe for dry mouth.
The mouth's saliva is an important part of its natural cleaning process, and it's ordinarily tasked with washing away food and plaque. Being low on saliva can put you at a greater risk of infection. Be sure to stay hydrated to keep your mouth moist, especially if you have a cold.
Tooth Sensitivity
A cold breeze will sting your face, but you shouldn't feel the same thing on your teeth. If you feel a twinge of pain when your mouth is exposed to hot and cold foods, that could be a sign that your enamel has gotten thin, exposing the layer of your tooth underneath. If the winter months are uncomfortable for this reason, you should try switching to fluoride toothpaste. Look for ADA-approved products that have been demonstrated to ease tooth sensitivity.
Chapped Lips
The winter air that dries out your mouth can easily do the same to your lips. If you let it get away from you, your lips can even start to crack and bleed. As mentioned, staying hydrated becomes very important in the winter months to prevent this from happening. You can supplement this with lip balm or petroleum jelly to keep your lips as smooth as possible.
Winter can be beautiful, even more so if you know how to enjoy it to the fullest. Keep these tips in mind, and you'll be able to do just that.
About the Author
Dr. Natalya Nagornaya is a general and family dentist who has dedicated her life to providing the latest in dental care. She is a graduate of the University of Illinois College of Dentistry and is an active member of the American Dental Association. She spends a great deal of her time continuing her education, and she passes the benefits of her knowledge onto her patients. If you have any questions about how to take care of your mouth this winter, Dr. Nagornaya can be reached at her website or by phone at (847) 634-2525.
Comments Off

on How to Deal with Winter Mouth Issues
No Comments
No comments yet.
RSS feed for comments on this post.
Sorry, the comment form is closed at this time.