March 7, 2023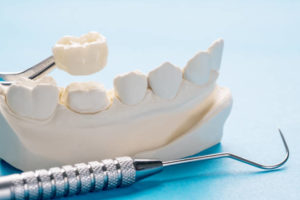 Dental crowns are one of the most popular restorative procedures because they provide a long-lasting solution to improve the health, function, and appearance of a tooth. Unfortunately, crowns don't last forever. Many factors affect the lifespan of a crown, but there are some obvious signs that your restoration is failing. Here's how you can tell when it's time to get a replacement.
How Long Do Dental Crowns Last?
Every mouth and situation differs, but the average life expectancy of a dental crown is about 10 years. It's not unusual for a crown to thrive for a decade or longer with the correct care.
The materials used and the location of the restoration can also affect the life expectancy. Back teeth experience more wear and tear from grinding and chewing food. As a result, a crown placed on a molar may need to be replaced sooner than one used on a front tooth. Your oral hygiene, lifestyle habits, and other factors can contribute to the lifespan of your restoration.
When Does a Crown Need to be Replaced?
It's not always easy to tell when a crown is starting to fail because the symptoms can be subtle. However, a few of the most common signs of failure include:
Receding Gum Line: Your gum line can start to recede, creating a gap between the edge of your crown and gum tissue. Bacteria and plaque can get trapped in the crevasse, which can lead to decay or infection if the crown isn't replaced.
Pain or Swelling: Decay can occur underneath the crown because bacteria can seep in through small cracks in the dental cement that occur over time. Placing pressure on the tooth can trigger pain or you may have a persistent toothache. In some cases, swelling or an abscess can occur if an infection has developed.
Visible Wear and Tear: A crown that shows visible signs of wear and tear will need to be replaced, like worn edges, chips, or fractures.
No Longer Aesthetically Pleasing: If you have a metal crown, it can stick out like a sore thumb when smiling. However, porcelain crowns can also become more noticeable over time because your surrounding teeth naturally change color. Unfortunately, whitening treatments won't create seamless results. Whether you have a metal crown or your teeth have changed color, a new restoration will restore your beautiful smile.
It's important to visit your dentist regularly to promote the lifespan of your restoration. Your dentist will check your crown at each appointment to ensure it's still functioning as intended. If they find anything concerning, they can replace your crown using a durable solution that looks natural.
About Dr. Natalya Nagornaya
Dr. Nagornaya earned her dental degree from the University of Illinois College of Dentistry and regularly continues her education to provide advanced services. She is a proud member of many professional organizations, including the American Dental Association. Request an appointment through our website or call (847) 607-6532.
Comments Off

on Signs That Your Dental Crown Needs to be Replaced
No Comments
No comments yet.
RSS feed for comments on this post.
Sorry, the comment form is closed at this time.