June 23, 2023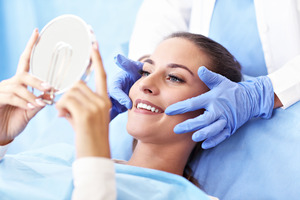 By the time summer rolls around, many families just want to focus on having fun and preparing for any big trips that they might be planning. But while you're getting ready for your summer activities, many oral health professionals recommend that you also make time for a quick trip to the dentist's office. It may seem like a chore, but in the long run, your smile may thank you for it. Here's why early summer dental appointments can be important.
Why Do You Need to See the Dentist Regularly?
One of the main purposes of a dental checkup is to look for signs of relatively small issues, such as cavities that have just started to form. Minor dental problems have the potential to eventually lead to full-blown dental emergencies, but if you have them caught and treated quickly, you can protect your smile from the absolute worst of the damage.
Sometimes your smile might be in overall good health, but that doesn't mean you can't still benefit from regular dental appointments. Your dentist can clean your teeth to get rid of the plaque and tartar that are known to cause cavities. Plaque is something you can remove on your own, but it can also be missed if you aren't as thorough as possible while brushing. Meanwhile, tartar is hardened in place and must be removed by a trained dental expert.
Why See the Dentist Before Your Summer Vacation?
Any time of the year can be a good time to visit the dentist, but what makes the days before your summer vacation a particularly good option? Here are a few important reasons:
Summer breaks can make your family's schedule less hectic overall, meaning you'll have more chances to fit in a necessary trip to the dentist.
The upcoming break also means that you and your loved ones will have more freedom to set aside any time that might be needed to rest after treatments that involve sedation or a healing period.
You can make sure that your smile is in excellent shape before you leave town, so there will be less of a chance that your vacation will be interrupted by a sudden oral health crisis.
Since many people tend to consume a lot more sugar during the summer – often in the form of sodas, ice cream, and so on – having your teeth cleaned now could help you protect your smile from cavities.
Your dentist will be more than happy to make sure that your teeth and gums are ready for the summer. Reach out to your practice today to set up an appointment for yourself or anyone else in your family who might be due for one.
About the Author
Dr. Natalya Nagornaya belongs to the Illinois State Dental Society and the Chicago Dental Society. She has close to two decades of dental experience, and she aims to provide high-quality general, restorative, and cosmetic dentistry to all of her patients in Buffalo Grove. If you would like to schedule a summer appointment with Dr. Nagornaya at Countryside Dental, visit her website or call (847) 634-2525.
Comments Off

on See Your Dentist Before Your Summer Vacation Begins
No Comments
No comments yet.
RSS feed for comments on this post.
Sorry, the comment form is closed at this time.