March 26, 2018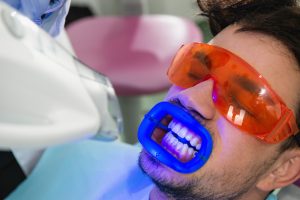 Have you tried every available store bought teeth whitening strip, gel, paste, and mouthwash without seeing the results you're after? How about all those dubious DIY teeth whitening solutions like brushing with charcoal or applying mashed strawberries to your teeth? You're not alone. Most patients who visit a cosmetic dentist for professional teeth whitening have already tried at least one over the counter whitening method without success, and the majority have tried more than one. If you're getting frustrated with the lack of results from store bought teeth whitening products, consider discussing professional teeth whitening options with your dentist. Because a dentist will begin by discovering and addressing the underlying causes of your dental discoloration, you'll receive a plan that is specifically geared toward addressing the reason for your tooth staining in order to deliver predictably brighter results. In this post, we'll discuss the benefits of in-office and at-home teeth whitening, so you'll have a better idea which is the right option for you.

The In-Office Teeth Whitening
If you decide to move forward with in-office teeth whitening, the process is completed in just one appointment. We can brighten smiles between six and ten shades for most patients in about an hour. We begin by protecting soft tissue by placing rubber shields. This also isolates the teeth and prevents neutralizing saliva from halting the whitening process. Then, we apply a layer of whitening gel directly to the surface of your smile. We allow the whitener to work for about twenty minutes. Then, we check your progress. The dentist will reapply as necessary until you see your desired smile brightness. Most patients need just two or three applications to get the results they're after. Following in-office teeth whitening, we may also recommend topical fluoride treatment to prevent any dental sensitivity.
At-Home Teeth Whitening
Our professional at-home teeth whitening kits give patients the same results as in-office teeth whitening from the comfort of home. Rather than completing the entire treatment process in one day, you'll need to apply a slightly lower dose of whitening agent using a custom application tray for about thirty minutes a day for two weeks. This is a great option for those patients who want to brighten smiles more gradually and those who have sensitive teeth. You can also use take-home whitening kits to periodically touch up the results of in-office teeth whitening.
Meet Dr. Nagornaya
Dr. Natalya Nagornaya and her dentistry team at Countryside Dental are happy to provide customized in-office and take-home professional teeth whitening solutions for their patients. In addition to teeth whitening, Dr. Nagornaya provides a wide range of cosmetic dentistry solutions to create a flawless smile you will be proud to share in any personal or professional situation. If you want to learn more about teeth whitening or other treatment options, give us a call to schedule your cosmetic dentistry consultation in our Buffalo Grove dental office today. We look forward to helping you achieve all of your cosmetic dentistry goals. If teeth whitening is the best option for your smile, we're currently offering a patient special to make both in-office or at-home teeth whitening more affordable. Our specials are just $149 for take-home teeth whitening and $299 for in-office whitening. Don't forget to ask about our specials before beginning your treatment plan!
Comments Off

on In-Office VS At-Home Professional Teeth Whitening
No Comments
No comments yet.
RSS feed for comments on this post.
Sorry, the comment form is closed at this time.